First Steps:
If you are reading this you have more than likely been given access to this software which gives you full access to the vehicle check app. The idea of this guide is to help you get started. With all software we expect there to be a learning curve. I have tried to make this software as easy to use as possible. This help page will show you round the desktop software. If you want to know how to login using the web browser click this link
Step 1:
download the app from the link that was sent to your phone.
Step 2:
download the vehicle software that was sent to you via email.
Login to the desktop software
Use the details you have been sent, your login details will be sent in two ways, email and text. So please check both, if you still have a problem logging in please contact me.
Tutorial
You can contact me via email any time with queries regarding this app. I will get back to you promptly. If you want more information use my contact page.
This is just the beginning
The following tutorial is not 100% in depth. It has been created to help you get up and running in as short time as possible. If you require infrmation that is not available in this tutorial please just ask. Now let us begin
---
Once logged in you will see this screen below.
Once you have logged in to the desktop software you can create accounts for your drivers. (Start by clicking on the button called "Create Drivers Account")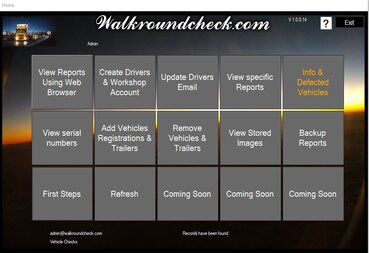 Once you click the Create Drivers Account button you will see the screen below. Now looking at this screen you will see there is a message box telling you to click it. Go ahead and click it now. When you do a serial for your driver will be created.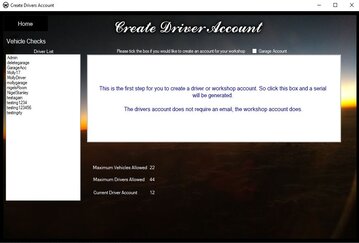 You will then see this screen, you can now type in a drivers name. It is optional to put an email address in at this time so feel free to leave blank. Once you have typed in a name hit the Enter button. You will then see the drivers name added to the list on the left hand side.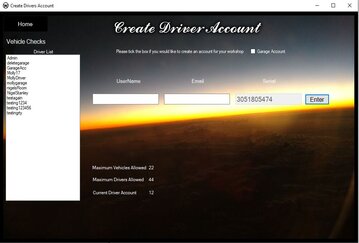 So you have now created a drivers account, your driver can now login to the app with the details you generated. That's great but you will need to add some registrations to the database so your driver can select vehicle from the app.
 Adding Registrations
So from the 'create drivers Account' screen your in now click the Home button and you will be taken back to the screen below. You now need to click on the 'Add Vehicle Registrations' button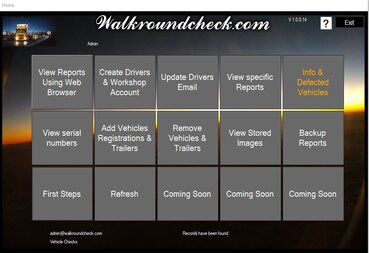 After clicking the 'Add Vehicle Registrations' button you will be taken to this screen below. Now type in a registration number of a vehicle in your fleet and press Enter button. When you do the registration will show in the left hand column. You have now added your first vehicle to the database. So when your driver logs in to the software he will now be given the option to select that registration when doing the vehicle check.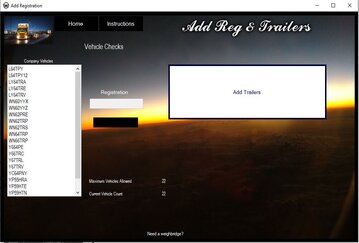 What happens if this application detects a defect?
When you open this software if it detects a defect you will notice the 'Info & Detected Vehicles' button is highlighted. This just gives you a heads up a driver has reported a defect.  We will come back to this section later on.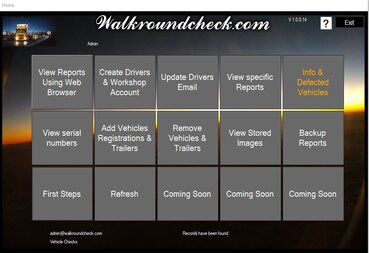 Update drivers email
So let's look again at the home screen you will see a section called 'Update Drivers Email' I wont go in to this much but just click it. When you click it you will see a warning box telling you to be careful about making change to this section. Dont worry to much about that. Just click on a drivers name on the left side and then add his email address if its not there. Otherwise change it and click the 'Update' button.
Driver can not remember serial
Also on the 'Home page' you will see a button called 'Quick View Viewing Serials' if you click this button you will be able to click on a drivers name and see the serial that was generated for them.
Viewing Images
This software allows a driver to take a picture of a defect he wants to show you. These pictures can be accessed by clicking on the 'View Stored Images' button. This section has it's own set of instructions which you can access from the images page. I advise you to save all images that a driver take as soon as possible. It is your responsibility to download and save images.
Remove Vehicles
So vehicles come and vehicles go, let's remove the vehicles that are no longer valid. This is fairly straight forward section you will click on a registration and click the delete button. This will not affect your reports in any way.
 Lost Serials
 If a driver forgets the details you have given him for logging in to the mobile app you can view these details by clicking on the button called "Quick View Viewing Serials"
Reports and backups
This is a rather big section of the app, it will give you several options. So let's start with general reports, regardless of a vehicle having a defect or not. Now look at the home screen in the image below. You can see a button called 'View All Reports'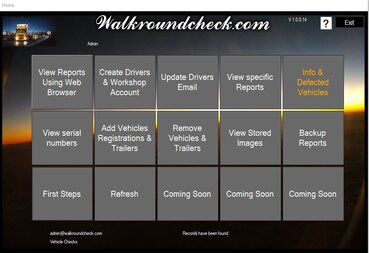 Once you have clicked this button you will be taken to another page which lists the different types of vehicles this software caters for. Look at the image below.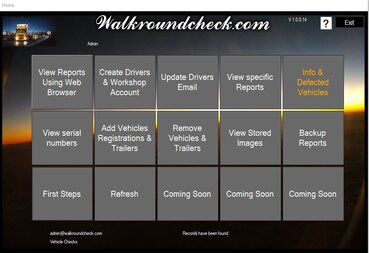 The Home button and Refresh speak for themselves. We then have the different vehicles, they all have the same features so I will just go through one of them with you. First you must remember this different vehicles have different questions. For this tutorial I created a user account with a user named 'con'
Now click on the button which says 'Class 2 Reports' and you will see this screen below. From here you have several options, you can see the numbers on the left side. Each time a report is submitted a new number is generated its what makes each report unique. Look at the 'Registration' column and say we want to lok at the questions and answers a driver was asked that drove the vehicle GN67XXXX
We then look at the id number on the left side and select it by clicking on it. Now press the button that says 'View Questions'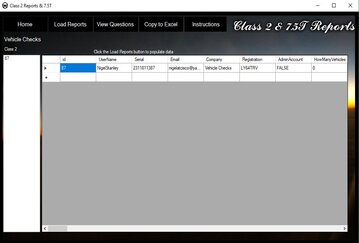 When you press the 'View Questions' button you will see the screen below. So from this screen we can see the user I created called con was driving reistration gn67xxx and this report was made for a company called Carmels Laundry. Looking at this con our driver was asked a series of questions. The first question was 'Are the mirrors cracked' you can see it is highlighted orange. Its highlighted because con said the mirrors are cracked. The software considers that to be a defect and highlights it. Look a little further down the list at the question 'Do the marker lights work' it's not highlighted is it. Thats because con our driver said Yes the marker lights do work.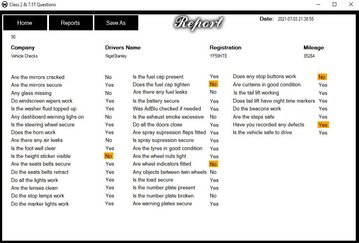 Its possible you might want to confront the driver to ask him about this. So I created a 'Save As' button this will allow you to save the document some where on your PC. You can then print it off if you choose to, or just save it as a backup.
Now click the 'Go Back' button and it will take us back one screen to this one. You can if you want download all reports for vehicles that are Class 2 by clicking on the 'Copy to Excel' button. Remember this particular way of saving all Class 2 reports in a dot csv format which can be read by excel does does not take in to account if a vehicle has been defected or not. It simply downloads all Class 2 reports.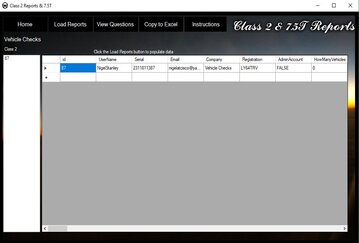 Now lets look at another feature of this software, 'Info and Defected Vehicles' button
To access this feature you need to be on the home page like below.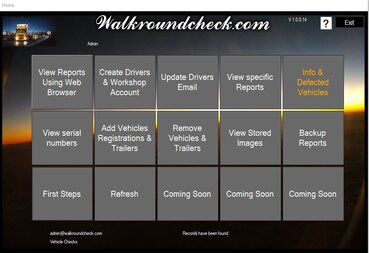 Once you click the 'Info & Defected Vehicles' button the screen will chanage to the one below. Now click on 'View defect messages'button you can see in the image below.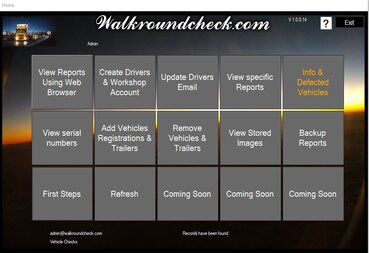 Drivers get a defect during shift, do they have to fill out the whole defect application again?
No, why should they it's a pain in the neck. All the transport clerk wants is to know that there is a record of this defect if asked about it. So the way this APP has been designed is this. The driver will open the application and select a vehicle type. They will then type in the mileage of the vehicle and select a registration. They can now click the button which says 'UPDATE DEFECT' at this point they will be given the opportunity to type in a short message like in the screen print below.
As you can see in image1 we are showing where to type in the mileage, select the registration and click the UPDATE DEFECT button.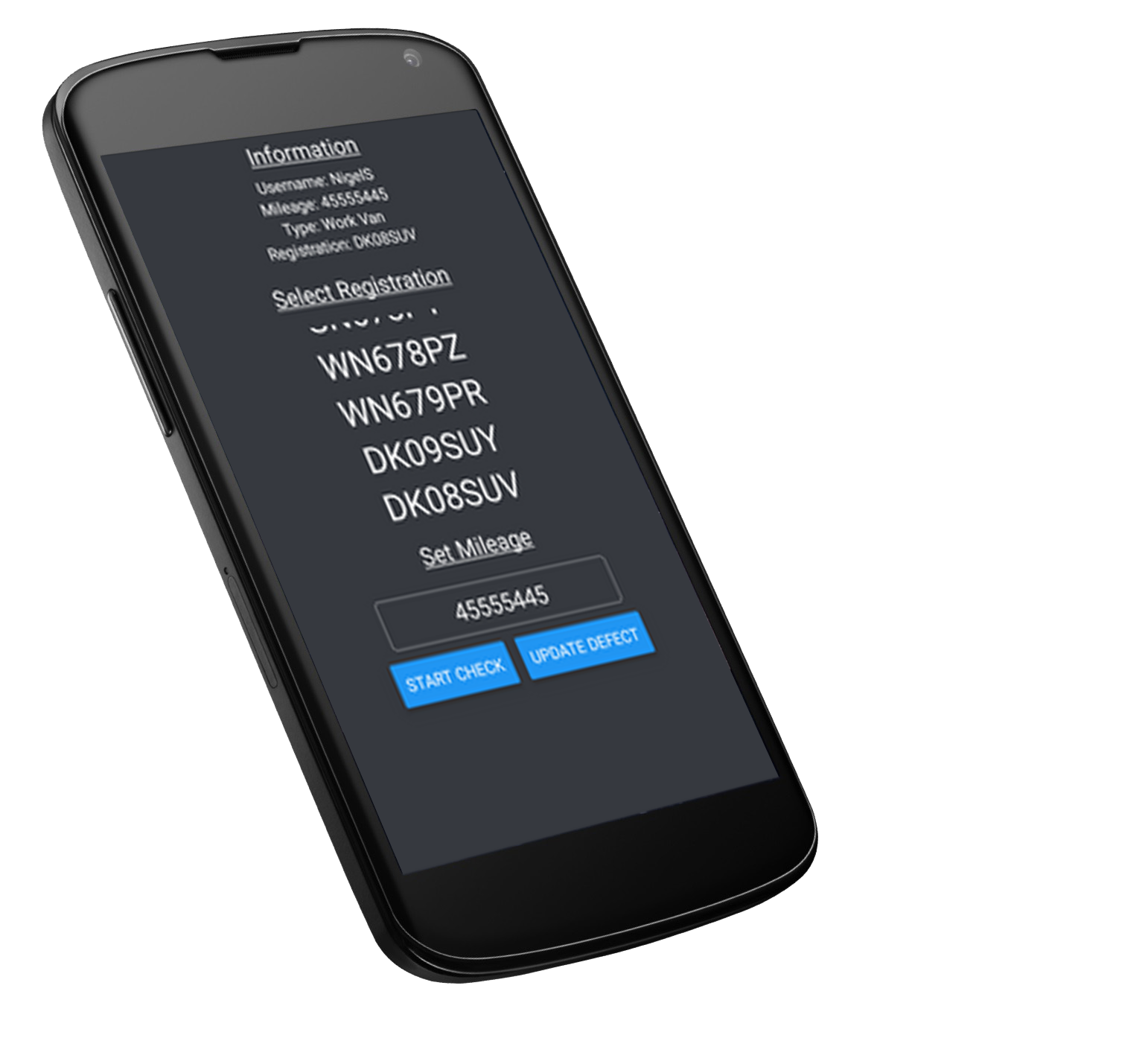 Image2 is showing where the driver can type in a message and click the 'UPLOAD DEFCET' button.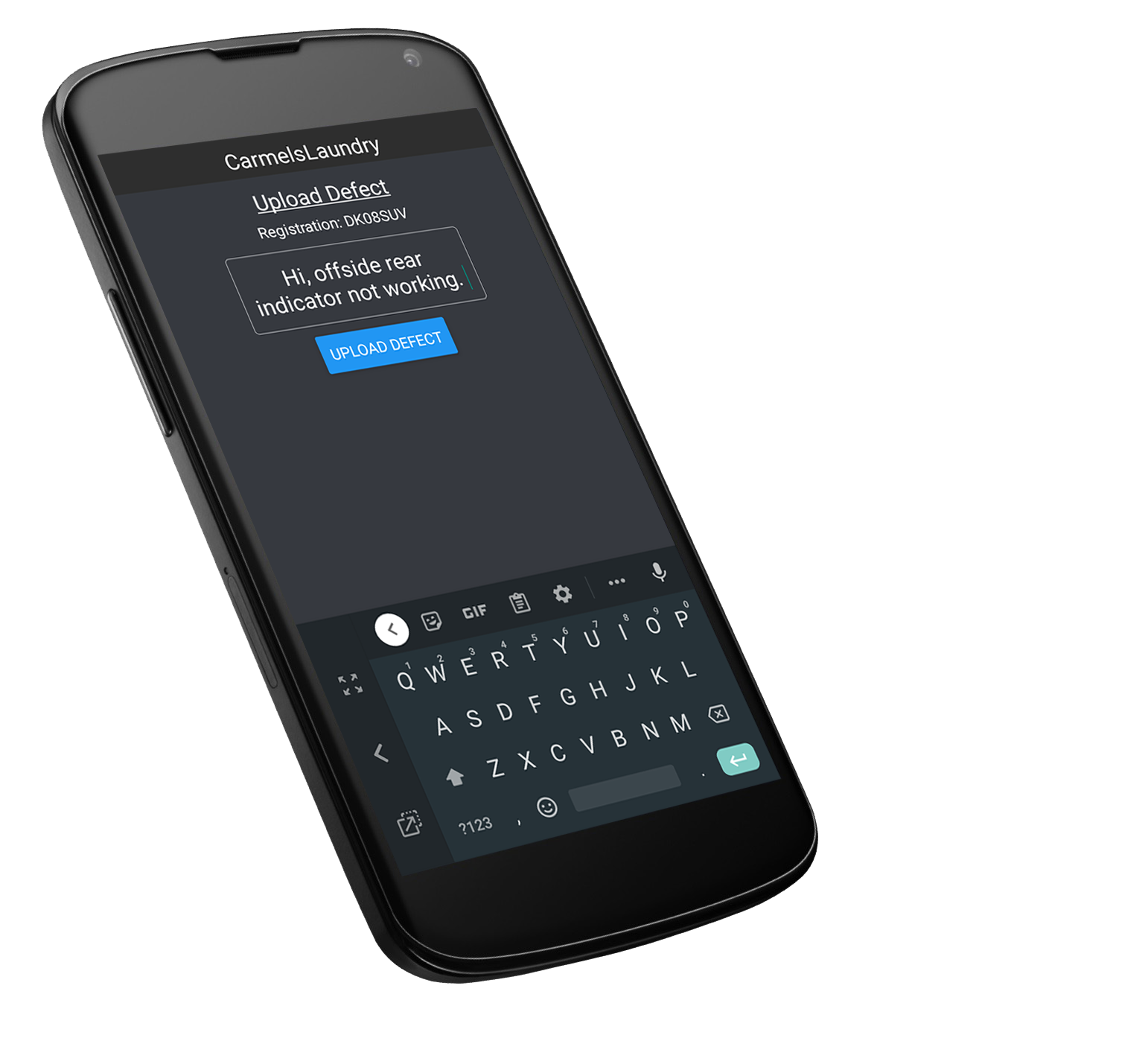 Our final image is showing how the transport clerk can view a message that the driver has sent. I have included an instruction button on this page to help anyone out.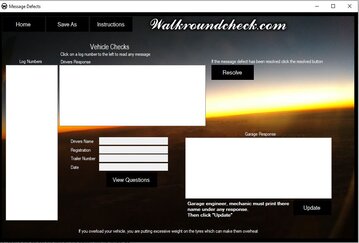 Delete Records
You can not delete individual records created by drivers. You can delete the drivers account which will remove al of that drivers records. So make sure you have done a complete backup of that drivers records before you remove the account.
Resolve Defects
As you know from what I said earlier when you start this software if a defect has been found the button on home page is highlighted. Im sure you would like to know how to resolve a defect in this software.
If you resolve the defect the text on the button will no longer be highlighted.
Go to the home page and click on Info & Defected Vehicles' then click on 'Resolve Defects' We use the same principle here as we do for some of the other features. Locate the id number of the defect you want to resolve. Then just click 'Resolve Defect' That particular defect will no longer be listed as a defect.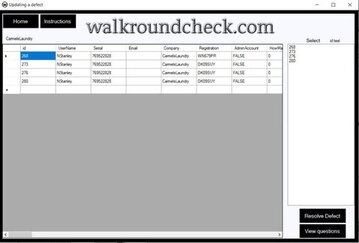 The idea of this tutorial is to give people a head start using this software. It does not list all the features of this software. I will at a later date continue this write up detailing more of what you can acheive using this amazing software.

What is Vehicle Check?
The Police and DVSA have the power to stop a vehicle and perform a vehicle check. If they find a fault they can enforce a prohibition.
This prohibition can stop you continuing your journey until the fault has been put right. This can lead to costly delays for a business &
hefty fines for a driver. This app is based on questions written on the DVSA website. As a driver you take responsibility for the vehicle you drive.
This app will help your company to help its drivers get it right, and keep your wheels turning.
We've got the perfect package for you
Designed to be run on android.
Together we can make drivers checks smoother.
Free Trial
Designed for Android
Management Software inc
Easy Setup
Email Support
Benefits of Digital Data
Welcome to the Future
Reduced paper trail
Reduced ink costs
More physical storage
Cloud storage
Why this software
Push Button Technology
Download Driver Reports
Download individuals
Download everyones
Reports download to Excel
Purchase Cost
Contact me for price
Great Software
Easy to Use
Pay Month by Month
Digital Data is Here
What our customers are saying
Our customers love this app.
The future of the transport industry has arrived.
Vehicle check is great, its the future of the transport industry. I can now store driver records in the cloud which means our storage room is becoming clutter free.
Mark Thompson
Transport Manager
The app is just what we needed for the job, remembering to buy defect books was a chaw. Now all data is stored in the cloud.
Benjamin Reily
Transport admin
This way of doing vehicle checks takes the effort out of doing the check.