First Steps:
If you are reading this you have more than likely been given access to the vehicle check software which gives you full access to the vehicle app. The idea of this guide is to help you get started. With all software we expect there to be a learning curve. I have tried to make this software as easy to use as possible. This help page will show you how to login and use the web browser to perform a vehicle check. It will also show an admin how to navigate the software.
Step 1:
download the desktop vehicle software from the link that was sent to you via email. You can now login and see what the software does. Just click on the menu and click on the 'Desktop Software' link . You can follow my tutorial to get started. To use this vehicle defect check software yoiu do not need to download any software if you choose not to. You can just login via a web browser and start using it straight away. Some companys will need there IT technian to install the software if they are on a domain. This is standard practice, it a security measure set up by the IT department. This is what makes the web version so much more appealing.
Step 2:
Trial the software and see if it meets your requirements. If it does you can continue using the software for the agreed price. Stay in touch with me via email and let me know your thoughts on using this great software.
Login to the desktop software
Use the details you have been sent, your login details will be sent in two ways, email and text. So please check both, if you still have a problem logging in please contact me.
Tutorial
You can contact me via email any time with queries regarding this app. I will get back to you promptly. If you want more information use my contact page.
This is just the beginning
The following tutorial is not 100% in depth. It has been created to help you get up and running in as short time as possible. If you require infrmation that is not available in this tutorial please just ask. Now let us begin
---
Login
You can login to the web browser to peform a vehicle check as a user or view reports as an admin. You can login via this url
reports.walkroundcheck.com
Depending if a user logged in or an admin as to what interface you will see next. The first part of this tutorial will show an admin what they can do once logged in using a web browser.
View Reports
First off admin can type in the login details they were given..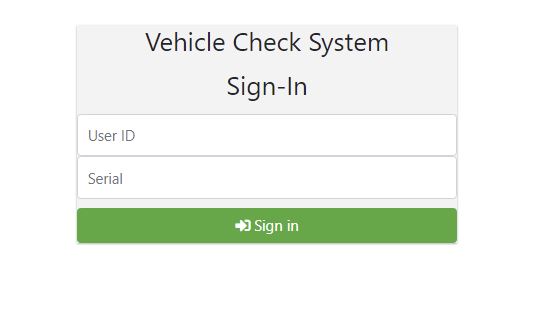 Once you have logged in as an admin you will see a screen like the one below. It will list all of your drivers names or usernames in an alphabetical order.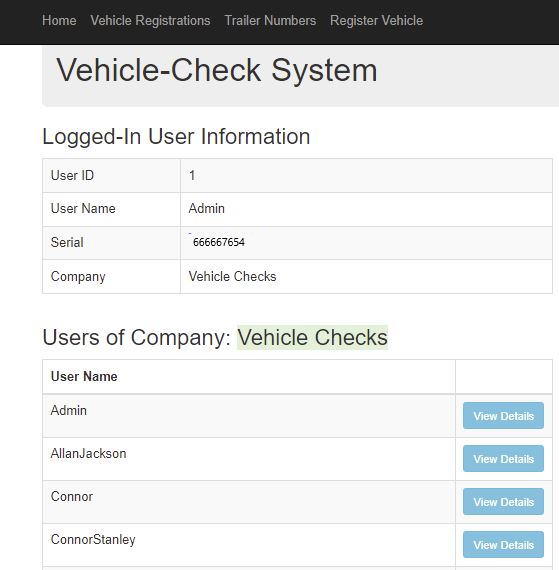 Now click on the View Details button of the driver you would like to view reports for.When you do you will see all the full reports that driver completed. Look at the example below. You can see all reports are date and time stamped.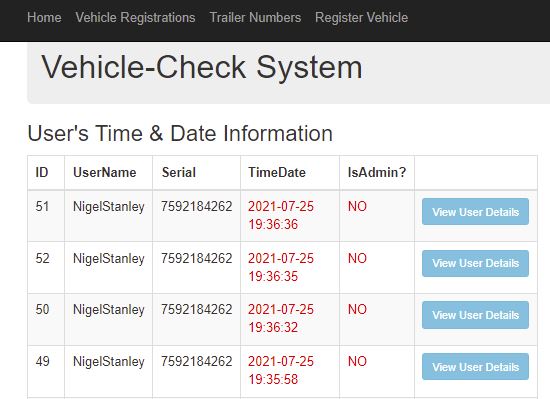 Now you need to decide which report you wish to view. Then click on the button next to the report which says 'View User Details'
Users Report
The drivers report you will notice will be in a list format. It will show some basic details for the driver. Followed by the questions the driver was asked and answers the driver gave. The image below is an example of how questions and answes will look.

There will be times when a driver has uploaded an image for you to see. If thats the case it will look like this image below.

 Adding Registrations
Once you have clicked on 'Register Vehicle' button you will be able to enter the registration of the vehicle you want. Your drivers will then be able to select that registration for the vehicle check. Simply type the registration in and press the 'Register Vehicle' button.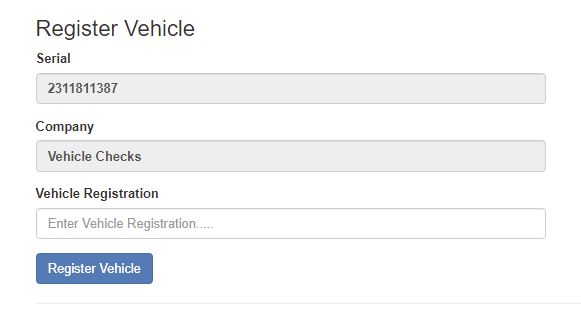 You can add a trailer in the same way. You will just need to click thw 'Register Trailer Number'
Create Driver Accounts & Workshop Accounts
An admin can create driver accounts from any device that has access to the net using a browser. The admin can create workshop accounts also. The workshop accounts allow a technician to view all defected reports. The technician will be able to write a comment and mark them as resolved.
What is Vehicle Check?
The Police and DVSA have the power to stop a vehicle and perform a vehicle check. If they find a fault they can enforce a prohibition.
This prohibition can stop you continuing your journey until the fault has been put right. This can lead to costly delays for a business &
hefty fines for a driver. This app is based on questions written on the DVSA website. As a driver you take responsibility for the vehicle you drive.
This app will help your company to help its drivers get it right, and keep your wheels turning.
We've got the perfect package for you
Designed to be run on android.
Together we can make drivers checks smoother.
Free Trial
Designed for Android
Management Software inc
Easy Setup
Email Support
Benefits of Digital Data
Welcome to the Future
Reduced paper trail
Reduced ink costs
More physical storage
Cloud storage
Why this software
Push Button Technology
Download Driver Reports
Download individuals
Download everyones
Reports download to Excel
Purchase Cost
Contact me for price
Great Software
Easy to Use
Pay Month by Month
Digital Data is Here
What our customers are saying
Our customers love this app.
The future of the transport industry has arrived.
Vehicle check is great, its the future of the transport industry. I can now store driver records in the cloud which means our storage room is becoming clutter free.
Mark Thompson
Transport Manager
The app is just what we needed for the job, remembering to buy defect books was a chaw. Now all data is stored in the cloud.
Benjamin Reily
Transport admin
This way of doing vehicle checks takes the effort out of doing the check.